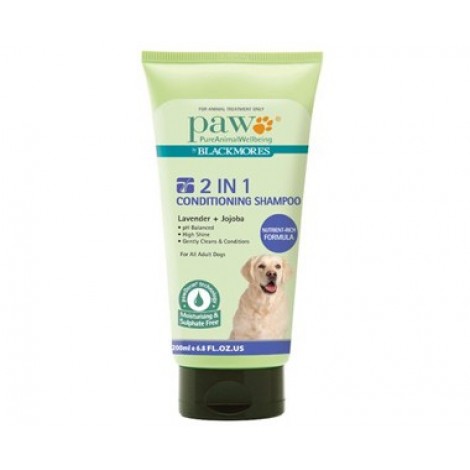 Formulated for all adult dogs, PAW 2 in 1 Conditioning Shampoo is pH balanced for adult dogs with healthy skin, using pawDerm technology that combines:
Hypoallergenic sulphate free gentle cleaners for an effective gentle clean without irritating or stripping natural oils from the skin.
Rich moisturising & nourishing conditioners to soften, detangle & enrich the coat & skin.
Natural essential oils of lavender & jojoba to nurture the skin & provide a fresh pure scent.
Ideal for caring pet owners who regularly wash & groom their adult dogs for a wonderful clean and smooth silky coat, as well as maintaining coat and skin health.
Contains: aqua (purified Australian water*) *BP 2000 standard, lauryl glucoside (botanical source), disodium cocoamphodiacetate (from coconut), sodium lauroyl methyl isethionate (botanical source), cocamide MEA (from coconut), glycerin (vegetable), lauryl glucoside (and) stearyl citrate (vegetable base), cocamide DEA (from coconut), panthenol, guar hydroxypropyltrimonium chloride (from guar), sodium hydroxymethylglycinate, Simmondsis Chinensis (jojoba) seed oil, Lavandula Officinalis (Lavender) oil, disodium EDTA, citric acid, tocopheryl acetate.
Specifications
For
Dogs
Active Constituents
Aqua BP 2000 standard, lauryl glucoside (botanical source), disodium cocoamphodiacetate (from coconut), sodium lauroyl methyl isethionate (botanical source), cocamide MEA (from coconut), glycerin (vegetable), lauryl glucoside (and) stearyl citrate (vegetable base), cocamide DEA (from coconut), panthenol, guar hydroxypropyltrimonium chloride (from guar), sodium hydroxymethylglycinate, Simmondsis Chinensis (jojoba) seed oil, Lavandula Officinalis (Lavender) oil, disodium EDTA, citric acid, tocopheryl acetate
Application
Topical
PAW 2 in 1 Conditioner Shampoo 200ml