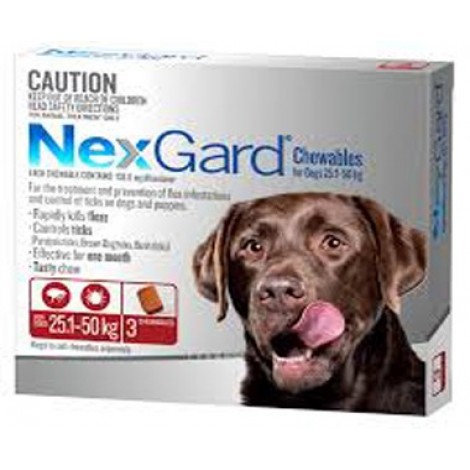 Active Constituents: 136mg Afoxolaner
Large Dogs 25.1-50kg ( 55 - 110 lb )
Expiry – 6 &12 Pack April 2024
Nexgard helps treat and control fleas and ticks and keeps killing for a full 30 days. So it helps provide protection you can feel good about. NexGard for dogs kills adult fleas before they lay eggs, and kills ticks, too. All in a delicious, soft chew that dogs love. Give appropriate dosage based on your dog's weight. If it is suspected that any of the dose has been lost or if vomiting occurs within two hours of administration redose with another full dose. If a dose is missed, administer NexGard and resume a monthly dosing schedule. NexGard can be administered with or without food. NexGard should be administered all year-round. Treat all the pets in your home to reduce the risk of a flea infestation.
First-ever flea and tick preventative from the makers of Frontline that comes in a tasty beef-flavored chew
No more messy topical preventatives, and no more worrying about washing off your dog's flea protection
Safe, effective, and lasts for 30 days
Can be taken alongside heartworm medication
NexGard contains a brand new ingredient not used in any other flea and tick protection. Afoxolaner, the ingredient in NexGard, works by absorbing rapidly and safely into your pet's bloodstream and causes uncontrolled activity the flea's and tick's central nervous system, which causes death. Afoxolaner is slowly excreted through your pet's metabolism, which allows NexGard to continue to provide effective treatment for a full 30 days.
Specifications
For
Large Dogs 25.1-50kg ( 55 - 110 lb )
Active Constituents
136mg Afoxolaner
Application
Monthly
Safety Information
NexGard is for use in dogs only. The most frequently reported adverse reactions include vomiting, dry/flaky skin, diarrhea, lethargy, and lack of appetite. The safe use of NexGard in pregnant, breeding or lactating dogs has not been evaluated. Use with caution in dogs with a history of seizures. Store at or below 30°C (86°F) with excursions permitted up to 40°C (104°F). The most frequently reported adverse reaction was vomiting. The occurrence of vomiting was generally self-limiting and of short duration and tended to decrease with subsequent doses. There are no known contraindications for the use of NexGard.