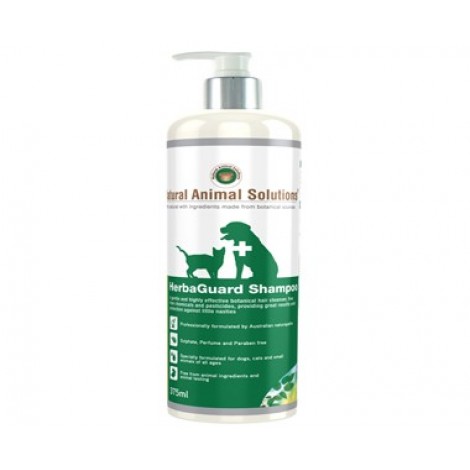 Active Ingredients: Water, apple cider vinegar, black walnut, pennyroyal, wormwood, lavender, fever few.
A 100% natural formulation enriched with natural cleansers and moisturisers to provide a gentle clean. Professionally formulated with added natural herbal repellents. Safe for all skin types.
100% natural with ingredients made from botanical sources
Sodium Laureth Sulphate & Sodium Laureth Ether Sulphate free
A gentle and highly effective botanical hair cleanser, free from chemicals and pesticides, providing great results and protection against little nasties.
Colour & Paraben free
Contains no harmful chemicals
Hand made products
All products are developed by our animal naturopath.
Shake bottle. Wet coat thoroughly and apply shampoo. Leave in for 1 - 5 minutes. Rinse and repeat if necessary.
Natural Animal Solutions HerbaGuard Shampoo 375mL