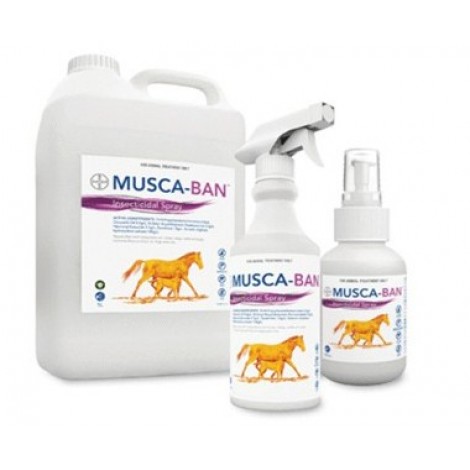 Active Constituents: Each L contains pyrethrins 1.5 g, di-N-propyl isocinchomeronate 6 g, piperonyl butoxide 2.7 g, N-octyl bicycloheptene dicarboximide 3 g, citronella oil 5 g.
Actions Insecticide:Musca-Ban is a ready-to-use spray-on fly and mosquito insecticide for use on horses, dogs, cattle and pigs. It is also provides effective control of fleas and lice on dogs and cats.
Directions for Use: Apply sparingly to the hair coat using the spray nozzle or a cloth dampened with Musca-Ban. Avoid direct application to eyes, nose and mouth. In most cases, a daily application will control the insect pests, but Musca-Ban can be safely applied twice daily if necessary.
To control fleas, spray areas where the pests are likely to breed, such as kennels and bedding.

Where possible, prevent flies breeding in manure by regular collection and disposal.

May cause dribbling and unsteady gait in cats. If one or both occur wipe off excess product and contact a veterinarian.

Available in 125ml and 500ml
Specifications
For
Dogs/Horses
Active Constituents
Pyrethrins 1.5g, di-N-propyl isocinchomeronate 6g, Piperonyl butoxide 2.7 g, N-octyl bicycloheptene dicarboximide 3g, Citronella oil 5g
Application
Topical
Musca Ban