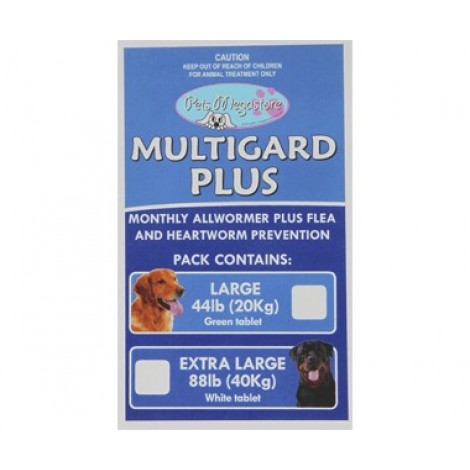 Active Constituents: each tablet contains
900mg Oxibendazole - Intestinal worm control
400mg Lufenuron - Flea inhibitor to prevent flea's from breeding
200mg Praziquantel - Tapeworm control
240ug Ivermectin - Heartworm prevention
Each tablet treats: 40kg (88lbs) of bodyweight.
Expiry: September 2020
Directions of use:
The first Mulitgard Plus tablet should be given before exposure to infected mosquitoes and should only be given to heartworm free dogs.
Does not kill adult fleas but prevents them from breeding.
Where adult fleas are present treat infected animals and housing areas to kill adult fleas.
Give one tablet per 40kg (88lbs) bodyweight as a single dose, with or without food.
Multigard Plus must be administered monthly to ensure complete protection for your dog.
For dogs weighing above or below 40kg ( 88 lbs ) dose according to bodyweight.
Specifications
For
Dogs 40kg (88lbs)
Active Constituents
900mg Oxibendazole 400mg Lufenuron 200mg Praziquantel 240ug Ivermectin
Application
Oral
MultiGard Plus EX Large 40kg (88lbs)
Not available to Australian customers