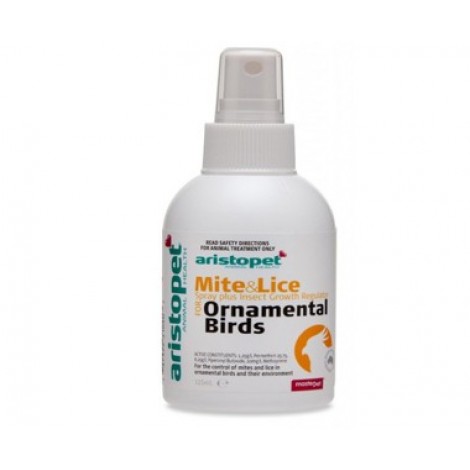 Contains: Permethrin , Piperonyl buxoxide and Methoprene
Aristopet Bird Mite & Lice Spray for birds is formulated to control feather lice and mites in caged birds and impart a gloss to plumage.
Mites and lice are common paracites of caged birds and their environment. Infestation can cause intence irritation and can lead to anaemia and disease transmition.
This spray contains a Insect growth regulator to control lice and mite in birds.
Specifications
Package Information
Spray 125mL
For
Birds
Active Constituents
1.25g/L Permethrin 25:75, 6.25g/L Piperonyl Butoxide, 20mg/L Methoprene
Safety Information
NOT TO BE USED on birds intended for human consumption, Read bottle before use
Mite and lice Spray 125mL