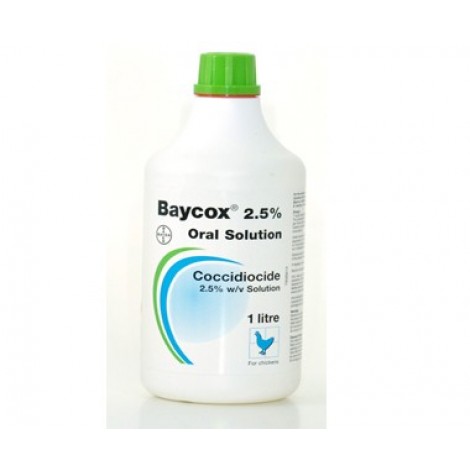 Baycox for Poultry 1lt - Coccidiocide Solution

Baycox is a palatable water medication for the treatment of coccidiosis.

Water medication is the preferred treatment regime to treat coccidiosis, as infected birds will continue to drink, but may fail to consume an effective dose of an in-feed treatment.

Benefits

Powerful - Controls all important Eimeria species in chickens.

Effective - Controls all intracellular stages of coccidia.

Convenient - Compatible with most commonly used feed additives and medicants.

Strategic - Does not interfere with the development of a stable immunity.

Economical - Acts fast to minimise economic losses.

User-friendly - Water-based, making it easy to administer

Safe- High safety margin. Does not reduce feed and water intake, or depress growth
rate and feed conversion.
Specifications
For
Poultry
Active Constituents
Toltrazuril
Application
Water Soluble/Oral
Baycox Poultry 1lt