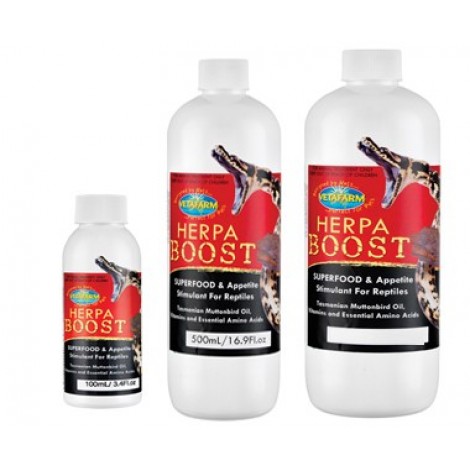 Nutrition booster for application to food or direct administration.
Recommended for: All reptiles
Key features: Stimulates juvenile reptiles and difficult feeders to feed. Provides emergency nutrition to sick, stressed and injured reptiles. Provides a nutritional boost to underweight or gravid reptiles. Can be fed directly to sick animals, injected into food items or smeared on food.
Directions: Give 3-8mL per 100g body weight, per feed or as required. Dose orally via feeding tube, syringe or inject into a food item
Specifications
For
Reptiles
Active Constituents
Veterinary formulated blend of fresh Tasmanian Muttonbird Oil, vitamins and essential amino acids
Application
Oral
Herpaboost 100mL (3.4 fl oz)