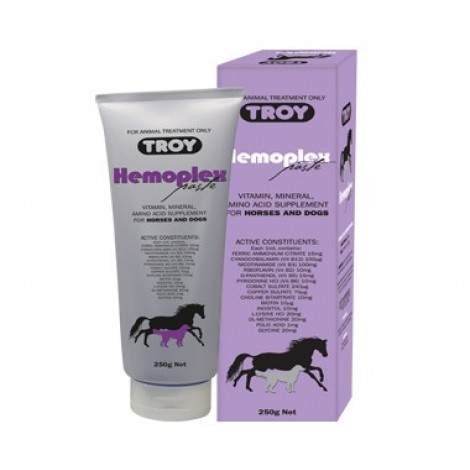 Active Constituents: Each ml contains 15mg ferric ammonium citrate,150ug cyanocobalamin (vit B12), 100mg nicotinamide (vit B3), 10mg riboflavine (vit B2), 15mg d-panthenol (vit B5), 10mg pyridoxine HCL (vit B6), 240ug cobalt sulfate, 70ug copper sulfate, 10mg choline bitartrate, 10ug biotin, 10mg inositol, 20mg L-lysine HCL, 20mg dl-methionine, 1mg folic acid, 20mg glycine.
Troy HEMOPLEX is an iron, vitamin, mineral and amino acid supplement for horses and dogs.
Dosage and Administration: 3 times weekly or as recommended by a veterinarian.
Adult horse 10ml, Dog 0.5ml per 10kg (22lbs) bodyweight.
Mix with food or directly into mouth.
250gm
Specifications
For
Dogs/Horses
Active Constituents
15mg ferric ammonium citrate,150ug cyanocobalamin (vit B12), 100mg nicotinamide (vit B3), 10mg riboflavine (vit B2), 15mg d-panthenol (vit B5), 10mg pyridoxine HCL (vit B6), 240ug cobalt sulfate, 70ug copper sulfate, 10mg choline bitartrate, 10ug biotin, 10mg inositol, 20mg L-lysine HCL, 20mg dl-methionine, 1mg folic acid, 20mg glycine
Application
Oral
Hemoplex Paste for Dogs and Horses 250gm