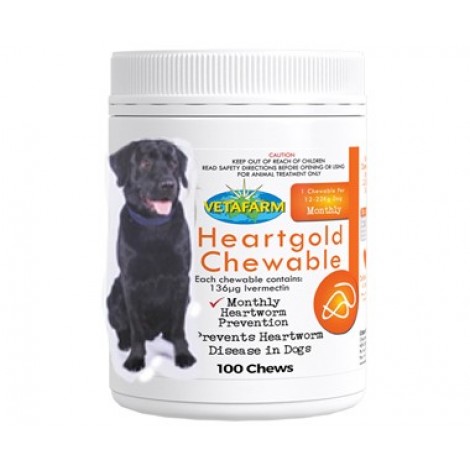 Active Constituents: 100 meat flavoured chews contain Ivermectin 272µg.
Treats dogs: 50-99lbs (22-44kgs)
Expiry: 20 Pack September 2020, 100 Pack August 2019
For prevention of heartworm.
For dogs weighing less than 50 lbs, give half a chewable each month.
Dogs 50 - 99 lbs, give 1 chewable per month.
For dogs over 99lbs, treat according to their weight.
Will kill heartworm larvae which is transmitted by infected mosquitoes within the previous 30 days.
May be given to dogs of any age, pregnant females and stud dogs.
Dogs will love them.
A great alternative to Heartgard chewables as the active ingredients are identical.
Specifications
For
Dogs 22-44kg (50-99lbs)
Active Constituents
100 meat flavoured chews contain Ivermectin 272µg
Application
Oral
Heartgold Chews Large Dogs
Not for sale to Australian clients