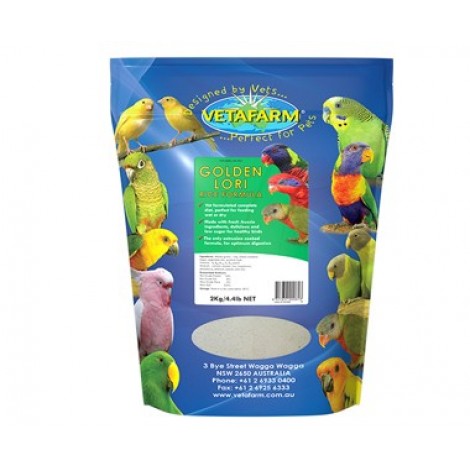 Completely balanced, low sugar diet specifically designed to meet the particular dietary needs of pet and breeding Lori/Lorikeets. Contains added Blueberry to ensure maximum taste and acceptability without excess sugar.
Golden Lori Rice formula contains scientifically balanced nutrition, which replicates natural diet of Lori/Lorikeets. Keeps Loris/Lorikeets in a healthy weight range. Supports breeding birds and ensures optimum nutrition for young. Supplies all of the essential vitamins, minerals, amino acids and calcium to ensure your birds have a long healthy life.
Recommended for: Australian and Exotic Loris/Lorikeets
Ingredients: Select Australian whole grains including: Soybean, Rice, Oats, Wheat, Sugar, Vegetable oils, Psyllium husk, Vitamins and Minerals.
Feeding: Golden Lori Rice Formula has been designed to provide a total feed for all Loris and Lorikeets. It may be fed as a dry powder or water added to form a wet mix. Golden Lori Rice Formula is a complete diet, no additional dietary supplementation is necessary. Vegetables, fruit or Blossom Nectar may be given as behavioural enrichment.
General Analysis:
Min Crude Protein 15%
Min Crude Fat 4%
Max Fibre 3%
Max Salt 0.5%
Vetafarm Improves Lorikeet Nutrition
Loris and Lorikeets require specialist nutrition to get the best in breeding performance and feather colour. If you keep and breed Loris or Lorikeets you require a Lorikeet food that brings out their best and adds to their value.
Lorikeets require a diet that is low in fat, moderate but balanced in protein and with available carbohydrates. A fat Lorikeet is not a healthy bird. Many Lorikeets are fed unbalanced formulas (homemade mixes) and develop layers of external and internal fat, leading to poor breeding performance. The feather colour and structure is greatly influenced by the ingredients in the diet, Golden Lori Rice Formula recognises this by the addition of ingredients known to improve feather formation and colour.
Specifications
For
Lorikeets
Active Constituents
Whole grains rice, wheat, soybean Suger, psyllium husk, vegetable oils. copper, calcium, iron, magnesium, phosorus, selenium, sodium and zink Vitamins – E, A, D3, B6, C and B12
Application
Food
Golden Lori Rice Formula
Available to Australian Customers Only