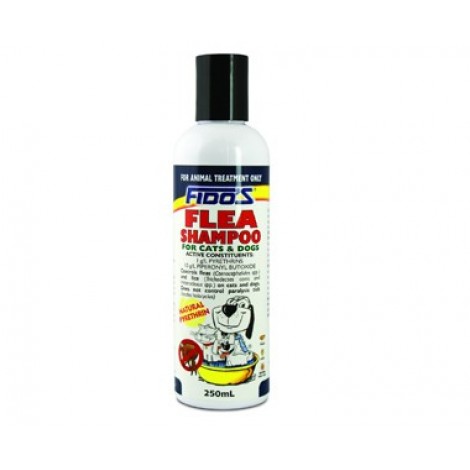 Active Constituents: 1g/L Pyrethrins - 10g/L Piperonyl Butoxide
Controls: Fleas, lice and aids in the control of adult brown dog tick on cats and dogs.
INDICATIONS: Fleas, ticks, lice and mite infestations in dogs and cats.
WARNINGS: Does not control paralysis tick.
In paralysis tick areas daily examination of dogs and cats is desirable.
PRECAUTIONS: Use with caution on puppies and kittens.
SAFETY DIRECTIONS: Wash exposed parts of the body after use, and before eating, drinking, or smoking.
Avoid contact with the skin and eyes, and avoid breathing its vapour.
Specifications
For
Dogs
Active Constituents
1g/L Pyrethrins - 10g/L Piperonyl Butoxide
Application
Topical
Fido's Flea Shampoo 250mL (8.5 floz)