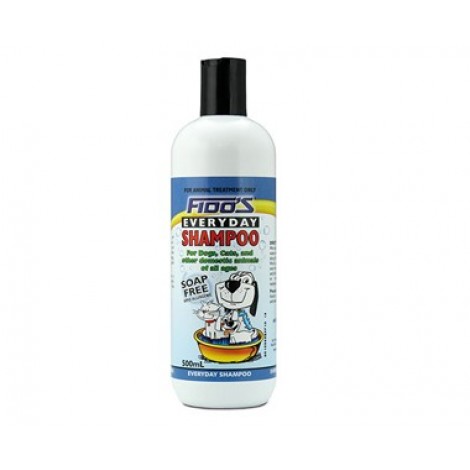 Fido's Everyday Shampoo is soap free and hypoallergenic.
It suspends soil in the coat for easy rinsing and moisturises the skin and hair.
Genuine Fido's fragrance provides a pleasant perfume.
Use it as often as you would use your own shampoo.
COMPOSITION: Monoethanolamine lauryl sulphate, glycerol, alkyl betaine, coconut diethanolamide, Aloe Vera extract, Tea Tree Oil, extracts of camomille, coltsfoot, horsetail, lemon balm, marshmallow, rest harrow, rosemary, sage, wild thyme, and yarrow, colour, fragrance, water and preservatives.
INDICATIONS: A pH balanced, low irritant, moisturising and conditioning shampoo, that leaves pet looking, smelling and feeling good, without drying the skin.
Also has skin protective properties.
Can be used on all hair types but is particularly suitable for greasy hair.
DIRECTIONS FOR USE: Thoroughly wet the pet all over and pour on at least 20mL along the backline of the animal.
Work up into a good lather over the entire body.
Rinse off and dry thoroughly.
Use as often as required.
STORAGE
Store below 30°C
Specifications
For
Dogs
Active Constituents
Monoethanolamine lauryl sulphate, glycerol, alkyl betaine, coconut diethanolamide, Aloe Vera extract, Tea Tree Oil, extracts of camomille, coltsfoot, horsetail, lemon balm, marshmallow, rest harrow, rosemary, sage, wild thyme, and yarrow, colour, fragrance, water and preservatives
Application
Topical
Fido's Every day Shampoo 250mL (8.5 floz)