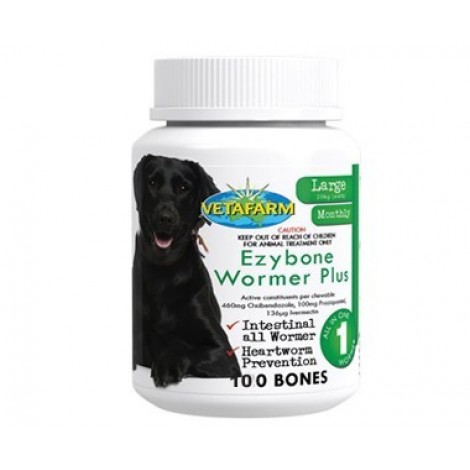 Active constituents per chew: 460 mg Oxibendazole, 100 mg Praziquantel, 136mg Ivermectin
Treats dogs: 30-45lbs (15-20kgs)
Expiry: 20 Pack September 2025, 100 Pack August 2026
Kills Heartworm (Dirofilaria immisit), Larval Stage.
Tapeworm
Roundworm
Hookworm
Whipworm
If worm problems persist, consult a veterinarian.

DIRECTIONS FOR USE: treat pregnant females at mating, before whelping and then every month.

Dogs should not be fed, or allowed to feed on, offal from any species.

DOSAGE:
22-44lb (10-20kgs) 1 chew
44-88lb (20-40kgs) 2 chews
88-132lb (40-60kgs) 3 chews
Repeat monthly or at veterinary direction.
Specifications
For
Dogs 15-20kg (33-45lbs)
Active Constituents
460mg Oxibendazole, 100mg Praziquantel, 136mg Ivermectin
Application
Oral
Ezybone Plus Large Chews
Not available for sale to Australian customers