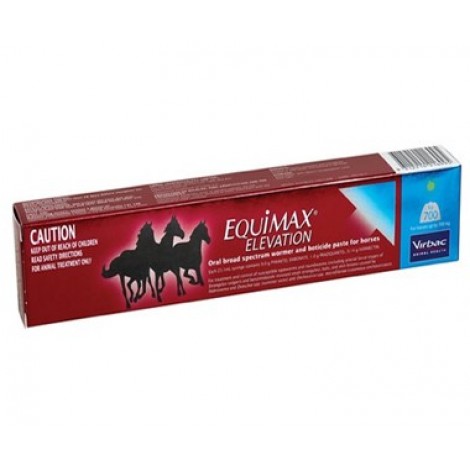 GETS WORMING RIGHT FROM THE START!
Each 23.1ml syringe contains 9.0g Pyrantel Embonate, 1.0g Praziquantel, 0.14g Ivermectin.
The ideal wormer for young horses by Virbac.
New Equimax Elevation offers 3 way action for complete protection. There is no wormer on the market quite like new Equimax Elevation. A unique formulation of three active ingredients designed to combat mectin resistance, Equimax Elevation is particularly suitable for worming young horses from 6 weeks to 24 months.
That's because young horses need special protection from potentially mectin resistant ascarids, a problem worm in horses under two years old. Ascarids can build up to life threatening numbers in a short time, causing severe blockages in a young horses comparatively smaller intestinal tract or permanently damaging their developing lungs. Equimax completely protects young horses from ascarids, as well as all other worms.
Equimax elevation is an oral broad spectrum wormer and boticide paste for horses.
For the treatment and control of susceptible tapeworms and roundworms (including arterial larval stages of Strongylus vulgaris and benzimidazole resistant small strongyles), bots, and skin lesions caused by Habronema and Draschia spp (summer sores) and Onchocerca spp microfilariae (cutaneous onchocerciasis).
Dosage and Administration:
Equimax Elevation oral paste for horses is given orally at the recommended dose level of 3.3ml/100kg bodyweight. The dose of 3.3ml/100kg bodyweight delivers 0.2ml of Ivermectin and 1.5mg/kg of Praziquantel and 13mg/kg Pyrantel. The contents of this syringe will treat one horse at 700kg bodyweight. Each weight marking on the syringe plunger will deliver 3.3mL of paste, which is sufficient to treat to 100kg bodyweight. Insert the syringe into the side of the horses mouth into the gap between the front and back teeth. Advance the plunger as far as it will go, press the plunger to the chosen dosage depositing the medication on the rear of the tongue. Immediately raise the horse\'s head for a few seconds after dosing to ensure the full dose has been swallowed.
Suggested Parasite Control Program:
All horses should be included in a regular parasite control program with particular attention being paid to mares, foals and yearlings. Foals should be treated initially at 6-8 weeks of age, and routine treatment repeated repeated as appropriate. Equimax Elevation is highly effective against tapeworms and gastrointestinal, cutaneous and pulmonary nematodes and bots of horses of all ages. Regular treatment will reduce the chances of verminous arteritis and colic caused by S. vulgaris. With its broad spectrum, Equimax Elevation is suited to be a major product in a parasite control program. Consult your veterinarian for a control program that meets your specific needs.
General Instructions:
Equimax Elevation kills all the important internal parasites of horses including the arterial stages of S. vulgaris and tapeworms and bots, with a single, easy to administer dose. Because reinfection is common, treatment must be repeated routinely for effective control. Equimax Elevation has a double action against nematodes and tapeworms due to the unique combination of the three actives ivermectin, praziquantel and pyrantel. Additionally, the double action is thought to delay the onset of resistance to either antihelmintic.
Safety:
Equimax Elevation oral paste for horses has shown a wide safety margin at the recommended dose level. It may be used in horses of all ages. Mares may be treated at any stage of pregnancy. Stallions may be treated without adversely affecting their fertility.
Specifications
Package Information
Syringe Gel 23.1mL
For
Horses 700kg
Active Constituents
Ivermectin 0.14g, Praziquantel 1.0g, Pyrantel 9.0g
Application
Oral
Equimax ELEVATION