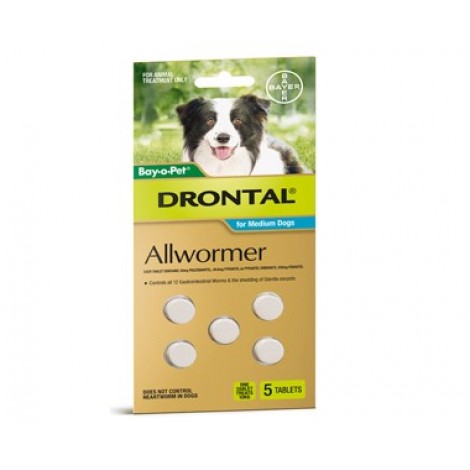 Active Constituents per tablet: Praziquantel 50 mg, Febantel 250 mg and Pyrantel (Embonate) 49.8mg.
Drontal Allwormer tablets for dogs. Dose is 1 tablet per 10kg (22lb) bodyweight.
This pack contains 5 tablets.
For the control of all 12 gastrointestinal worms and the shedding of Giardia oocysts in dogs (including roundworm, hookworm, whipworm, tapeworm and hydatid tapeworm). Does not control heartworm

Dosage:
1 tablet treats up to 10 kg of dog bodyweight
Over 10 kg Dose by weight with the appropriate combination of tablets.

Dosing Schedule:
Give an individual measured dose at 2, 4, 8 and 12 weeks of age. Then give an individual measured dose at 16, 20 and 24 weeks of age.
After 6 months of age, give an individual measured dose every 3 months.
In environments where whipworm or hydatid tapeworm infestation is heavy, an individual measured dose should be given every 6 weeks.
Treat breeding bitches prior to mating then 10 days before whelping and 2 and 4 weeks after whelping.
Directions for Use:
Weigh puppies/dogs before dosing
Fasting prior to dosing is not necessary
Give an individual measured dose, by mouth, to each dog
Dogs become reinfested with worms from larvae and eggs in their living environment, so dosing will need to be repeated through the entire life of the dog.
If worm problems persist, consult a veterinarian.
Safety
Gentle, effective control of gastrointestinal worms.
May be given safely to all dogs.
Can only be given to pregnant bitches in the last 10 days prior to whelping
Do not give to puppies under 2 weeks of age.
This medication should not be given to animals allergic to the ingredients
Compatibility:
May be combined with other treatments, for example heartworm prevention, flea and tick treatment.
Specifications
Package Information
5 x 10kg (22lbs)
For
Dogs 10kg (22lbs)
Active Constituents
Praziquantel 50 mg, Febantel 250 mg and Pyrantel (Embonate) 49.8mg
Application
Oral
Drontal Allwormer 10kg (22lb) - 5 Tabs