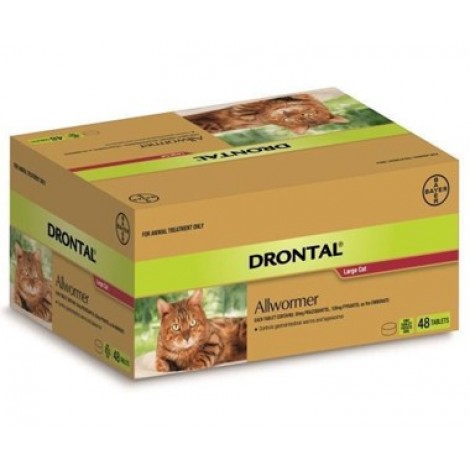 Active Constituents: 30mg Praziquantel, 120mg Pyrantel as the Embonate
Expiry: May 2025
For the control of all gastrointestinal worms: roundworm, hookworm and tapeworm in cats including kittens and pregnant and lactating queens.
Your pet can give you more than love. It can give you worms.

Now there's an easy way to protect your cat and family from worms. With Drontal Allwormer Tablets - a proven treatment that eradicates all gastro-intestinal worms in your fluffy friend.
Why choose Drontal Allwormer?

• Bye-bye intestinal worms
Effective against the major gastrointestinal worms affecting cats like roundworm, hookworm and tapeworm.

• Economical
Drontal Allwormer Tablets offer gentle, effective control of worms. They may be given to all cats including old animals, young kittens, pregnant queens and show animals.

• Trusted by Australian Vets
• Drontal Allwormer Tablets have ingredients proven through research to be highly effective for intestinal worm treatment in cats.
"Drontal are registered trade marks of Bayer AG. these trade marks may not be used without the express permissiom of Bayer AG or its authorised licensee in Australia, Bayer Australia Limited"
Specifications
For
Cats 6kg (13.2 lb)
Active Constituents
30mg Praziquantel, 130mg Pyrantel as the Embonate
Application
Oral
Drontal Cat Ellipsoid 6kg (13.2lb)