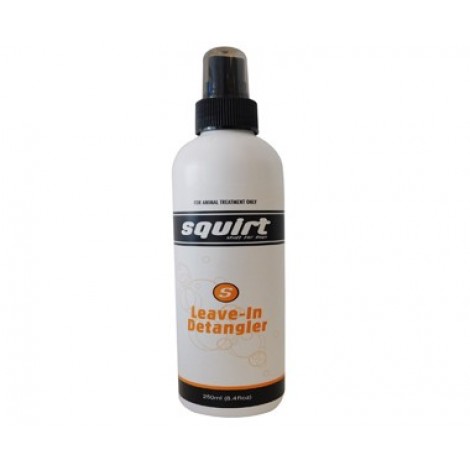 Squirt Detangler (Pina Colada & Kahula) helps prevent matting and tangling in even the most hard-to-handle long haired coats while making them easier to comb.
It doesn't leave any residue and restores damaged hair while maintaining moisture balance in the coat and skin.

Squirt for dogs is exactly the stuff you and your pooch have been looking for.

Squirt is a brand new range of specially formulated grooming stuff for dogs.

While we may often treat our dogs like humans, understand that they are different to us in many ways and they need different stuff to humans. A dog's skin is more sensitive than ours and the hair on their bodies is, in fact, different.

Human hair has a pH level of 4.5 to 5.5, but a dog's skin and coat has a much higher pH level of 7.
The shampoo you use on yourself is NOT suitable for your dog your dog finds it irritating.
Why do you think dogs roll in the dirt the second you've finished washing them?

The Squirt range of stuff for dogs is suitable to be used with tick and flea treatments, including those applied to the back of your dog's neck.

Imagine your dog smelling pretty and looking fantastic with Squirt we know they will thank you for it.

Available in 250ml
Specifications
For
Dogs
Application
Topical
Squirt Leave-in Detangler 250mL (8.5 fl oz)