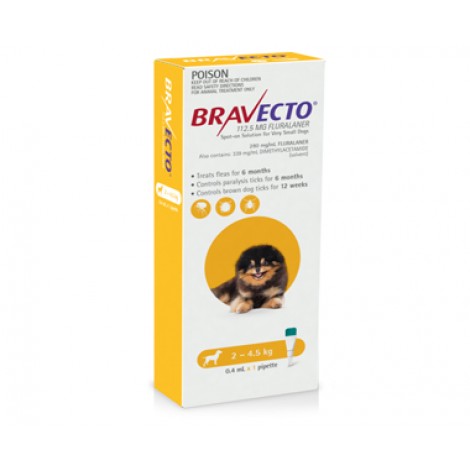 Active Constituents: 112.5mg Fluralaner ( 280mg/mL Fluralaner, also contains 339mg/mL Dimethylacetamide Solvent)
Bravecto Yellow for Very Small Dogs 2-4.5kg (4.4-9.9lb) Spot On – 1 x 0.4mL Pipette ( 6 months protection from fleas and paralysis ticks in one Spot-on )
Bravecto is proud to deliver a safe, well-tested solution for dogs and cats worldwide against paralysis ticks and fleas. Our products have undergone rigorous regulatory approval processes and are sold with confidence in over 70 countries and are determined to be safe when used according to the label.
Delivering fast protection that lasts. A single treatment with Bravecto Spot-on gives your dog effective cover for a full 6 months and controls Flea Allergy Dermatitis
Give your dog protection from the single most dangerous tick for canines in Australia. Bravecto Spot-on for Dogs is 100% effective against existing paralysis tick infestations within the critical 72 hour period. It also provides 12 week protection against the brown dog tick
The TWIST´N´USE tube makes it easy and hassle-free to apply Bravecto Spot-on, without fuss for you or your dog. It also provides a great alternative for dogs that don't like tablets or chews.
Safety: Bravecto has been proven safe for use in breeding, pregnant and lactating dogs as well as puppies over 8 weeks of age weighing at least 2kg (4.4lb).
** RX Required For USA **
Bravecto Spot On for Dogs Yellow Very Small