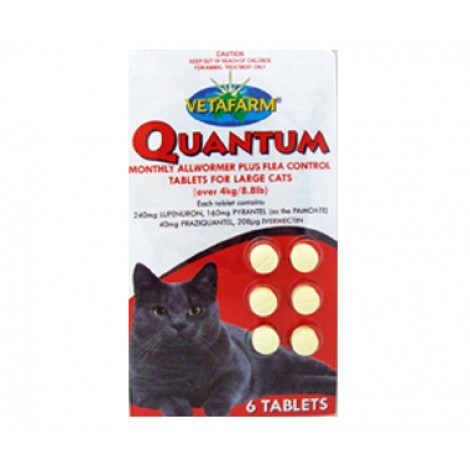 Active Constituents: 240mg Lufenuron, 160mg Pyrantel, 40mg Praziquantal and 208 ug Ivermectin.
Expiry: 20 Pack May 2023, 100 Pack May 2023
Quantum monthly tablets for fleas, heartworms, round, hook and tapeworm.
This great new product consists of commom ingredients found in many popular branded flea, heartworm and intestinal worm preventions.
Treats
Roundworms ( Pyrantel )
Hookworms ( Pyrantel )
Tapeworms ( Praziquantel )
Fleas ( Lufenuron )
Heartworms ( Ivermectin )
Note: Lufenuron is a flea inhibitor and prevents fleas from breeding, over time killing out flea populations. It does not kill adult fleas.
Directions for use:
Bodyweight-
5-8 Kilo (8.8 -17.6lbs) 1 tablet per month
8-12kilo (17.6-26.5lbs) 1 1/2 tablets per month
Treat adults every 28-30 days (monthly)
Treat kittens at 6,8,12 weeks and then monthly
Treat lactating Queens prior to mating, 10 days before kittening and 2-4 weeks after kittening.
Specifications
For
Cats 5-8 kg (8.8 -17.6lbs)
Active Constituents
240mg Lufenuron, 160mg Pyrantel, 40mg Praziquantal and 208 ug Ivermectin
Application
Oral
Quantum Tablets for Large Cats over 4kg (8.8lb)
Not available to Australian residents