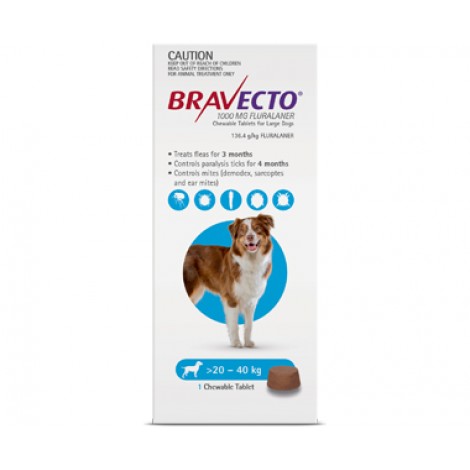 Active Constituents: 1000mg Fluralaner
Bravecto Blue for Large Dogs 20-40kg (44-88lb) Oral Chewable
Expiry: 3 Month October 2022, 6 Month August 2022, 12 Month July 2022
3 Month (1 Chew), 6 Month (2 Chews), 12 Month (4 Chews)
Each chewable will treat:
12 week chewable oral flea treatment, 16 week paralysis tick, 8 week brown dog tick for dogs.
Highly palatable, well accepted by most dogs
For use in dogs from 8 weeks of age and over 2 kg in body weight
Can be administered all year round.
Precautions: Should not be used in puppies/dogs less than 8 weeks old and/or weighing less than 2 kg.
Treatment and prevention of flea infestations for 3 months
Provides effective control of fleas on dogs within 8 hours of administration
Aids in the control of and reduces incidence of flea allergy dermatitis (FAD) by controlling adult fleas
Interrupts the flea lifecycle due to the rapid onset of action – kills newly emerged adult fleas before they lay eggs, long-lasting efficacy against adult fleas on the animal and prevents viable egg production.
Ticks
Treatment and control of paralysis tick for 4 months
Treatment and control of brown dog tick for 8 weeks
Provides effective control of pre-existing infestations of paralysis ticks within 24 hours
In tick season, daily searching for and removal of ticks found is recommended
Directions for Use and Administration
Read the entire label/enclosed leaflet for full instructions before use
For oral use only.
Administer Bravecto chewable tablets at or around the same time as your dogs meal.
If the tablet is not accepted voluntarily by the dog, it can also be given with food or placed directly into the mouth for swallowing.
A single Bravecto chewable tablet should be administered according to the body weight of the dog
To ensure a therapeutic dose is administered, the chewable tablets should not be broken or divided.
For optimal control of tick and flea infestation, the Bravecto chewable tablet should be administered at 12 week intervals.
Bravecto registered trade marks of MSD Animal Health these trade marks may not be used without the express permission of MSD Animal Health or its authorised licensee in Australia. This is an Australian registered product labelled in kilograms.
All pet medications offered for sale are classed as OTC (Over the Counter Products)
USA customers RX REQUIRED
Specifications
Package Information
Oral Chewable
For
Large Dogs 20-40kg (44-88lb)
Active Constituents
1000mg Fluralaner
Application
3 Monthly
Bravecto Chewable for Dogs Blue Large