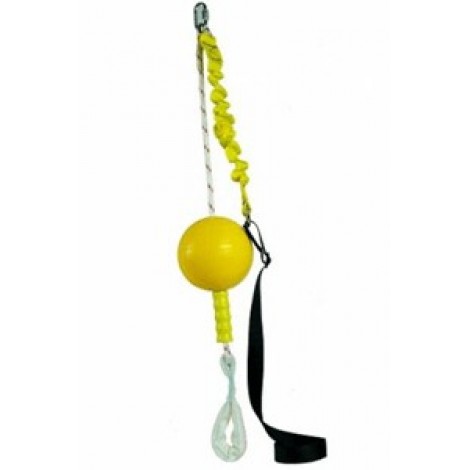 For the dog that destroys anything - the washing, the plants, barking, separation anxiety or just wants to have fun!
The Home Alone consists of a sturdy rubber ball with a rattle and a thong, mounted on a strong rope with a detachable elastic extension and straining rope. The Home Alone toy dispenses a small amount of food every time your dog pulls on the grip hanging below the ball. When they go to eat the food the assembly springs back above their head.
Available Sizes:
Mini - For toy breeds only, eg Papillon, Bichon Frise etc
Junior - Primarly for light framed medium dogs, Fox Terriers and Jack Russells
Medium - Most medium dogs including Border Collies, Cattle Dogs, Kelpies and Schnauzers
Large - For dogs 30 to 45 Kg with "large bite" Including Boxers, Spaniels, Setters, Pointers, Doberm anns and Airedales.
Aussie Dog Home Alone Toy