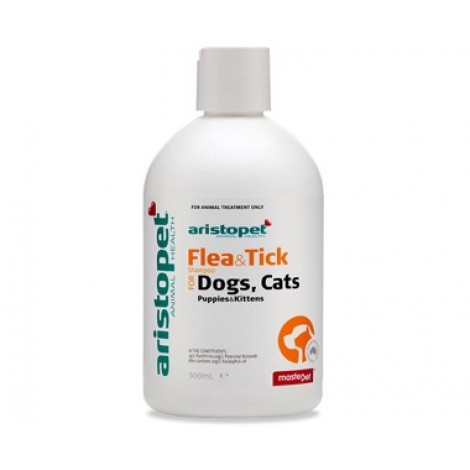 Active Constituents: 1.8 g/L Pyrethrins, 3.6 g/L Piperonyl Butoxide, 6.0 g/L Octylbicycloheptene Dicarbomoxide
Aristopet Flea & Tick spray for both dogs and cats. 250ml ( 8.5 floz ) For Dogs and Cats over 3 months of age. Controls fleas , brown dog tick.
Aristopet Flea and Tick Spray contains highly synergised natural Pyrethrins to aid in the control of fleas and adult brown dog ticks. It kills fleas quickly and easily from head to tail.
Gentle acting and quick drying insecticidal spray has a pleasant smelling,
Tea tree oil fragrance.
Safe to use on dogs, puppies
Safe for pet's bedding or sleeping quarters.
An environment spray to control or prevent flea breeding.
The product comes as a non-aerosol spray and is safe for asthmatics.
Directions of use: Spray at a distance of 15 - 30 cm from the animal, avoiding the eyes, mouth and genitals. Fluff the hair to allow the spray to penetrate into the coat, then spray continuously starting from the tail and working towards the head.
Specifications
For
Dogs
Active Constituents
1.8 g/L Pyrethrins, 3.6 g/L Piperonyl Butoxide, 6.0 g/L Octylbicycloheptene Dicarbomoxide
Application
Topical
Aristopet Flea & Tick Spray 250ml