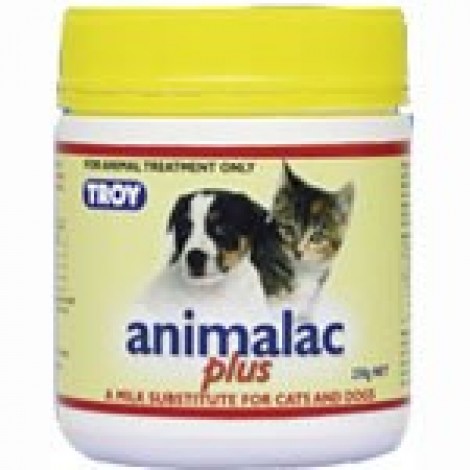 A milk substitute for dogs and cats. Animalac is a carefully balanced blend of proteins, fats, carbohydrates, vitamins and minerals formulated to meet the high nutritional needs of young debilitated animals.
Composition: Fats 10.7%, Protein 29.7%, Carbohydrates 49.2% and essential vitamins, minerals and amino acids.
Contraindications : Do not administer during the first 48 hours after birth if not an orphan as this may prevent absorption of antibodies from the mother's milk.
Directions for Use: 1 measure approx. 3.5g. 1 measure Animalac mixed well with 3 measures warm water will give 20mL mixture.
Orphan Pups and Kittens Feed as much as it will comfortably consume, without forcing as overfeeding may cause diarrhoea. Feed approximately 20% of bodyweight (grams) in mLs. Divide the total daily requirement and feed over 4-6 feeds.
Pregnant and Nursing Dogs and Cats Supplement diet for bitches and queens with Animalac at the rate of one measure for each kg bodyweight particularly during the last 3 weeks of nursing and whilst they are nursing.
Specifications
For
Puppies/Kittens
Active Constituents
Fats 10.7%, Protein 29.7%, Carbohydrates 49.2% and essential vitamins, minerals and amino acids
Application
Oral
Animalac 250gm